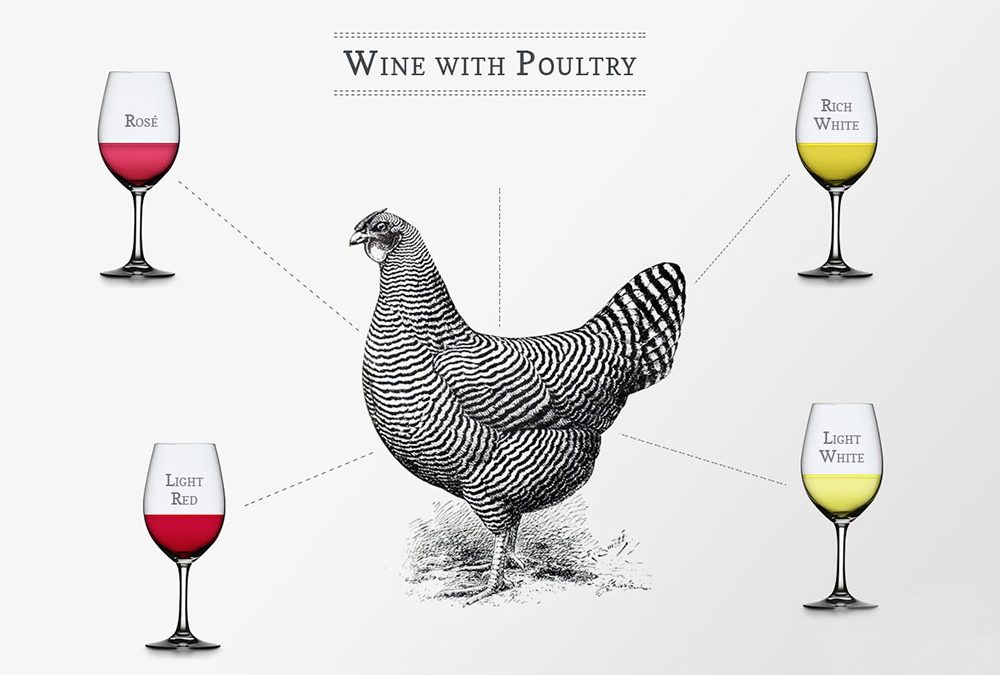 Food Pairings Vol 1.
Wine & Chicken
Pairing with chicken is both straightforward and complicated at the same time.
The most common way to go is with Chardonnay. You'll be fine with one from just about anywhere in the world, but the slightly rounder, full-bodied ones from Margaret River or the Hunter valley tend to work the best.
Chicken can get complicated because it is rarely served just roasted or all by itself, and since the flavour of the chicken is somewhat mild, the added ingredients often play a major flavour role. These added flavours are what affect your wine choice.
If served in a cream sauce, stick with that fat, round, buttery Chardonnay. Use some mushrooms into that sauce, and you can hit a light-bodied red such as a Pinot Noir. New Zealand, Tasmania or Mornington Peninsula would work well.
If served with fruit such as chutney or an apricot salsa) then try a Viognier. This wine is similar in weight and body to Chardonnay, but with more peach and apricot flavours, and less citrus.
Red wine can also work with chicken – particularly if the chicken is served with tomatoes or a tomato sauce. You'll want a light-bodied red; the acid in tomatoes makes Chianti or any other Sangiovese-based red a good choice.
You can get away with bolder red wines like Cabernet Sauvignon, Grenache or Shiraz if the chicken has lots of spices and flavours (or barbeque sauce) all over it that drown out the chicken flavour. In this case, since the spices are already competing with the chicken, you are really more focused on pairing with those flavours rather than the chicken itself. Experiment yourself, you may discover hidden talents you didn't know you had. If you need some advice you can always call on the staff from Coledale Fine Wines.
Bon Appetite.
746 Lawrence Hargrave Drive
Coledale, NSW, 2515